FEATURES
Manufactured in controlled indoor facility;

Tailored design, engineering and assembly, fit-out, and factory tested (including special seismic, thermal and acoustic requirements);

Modularized execution for big projects with offered shipping and minimal site work;

Mobile container for small-scale needs;

Convenient transportation options (by truck, barge or combined);

Installation and quality control on site;

Full turnkey solution, installation and project management;

Full factory testing and pre-commissioning prior to shipping;

All internal components are fully tested and certified;

Quality Management System ISO 9001:2015.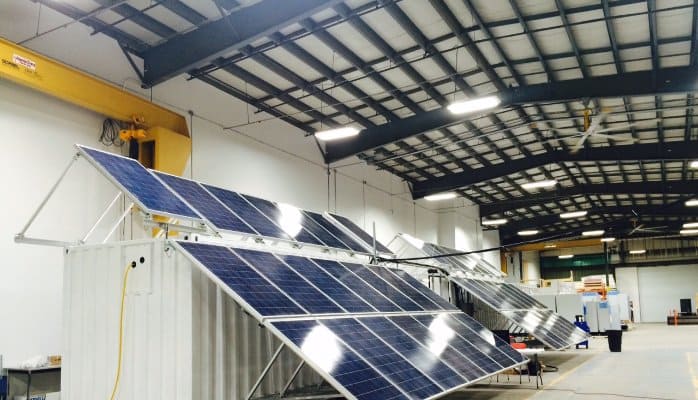 AKA's E-houses are pre-manufactured stationary or modular
enclosures that integrate high, medium and low voltage electrical, control and safety components, as well as auxiliary components. E-houses are designed to ensure the safety of critical and valuable technological processes and electrical equipment across different industries.
AKA's typical E-house is composed of:
Metal insulated or uninsulated building or container for a particular environment;
Low, medium and high voltage switchgears;
Low and medium voltage transformers;
Low and medium voltage motor control centers;
Low and medium voltage Variable Frequency drives;
Battery systems and related products;
Cables, cable trays and accessories;
Raised floor;
Mechanical, electrical and control systems for the building,
including lighting, heating, ventilation, air conditioning, fire
protection, alarm system, CCTV system, access control systems,
SCADA, etc.
AKA offers exceptional resources to fabricate E-houses within our 100,000 square foot manufacturing facility. AKA pre-manufactures E-houses in frame-built modules or within ISO containers to ensure easy delivery and handling at the destination. The modules are assembled in a controlled environment manufacturing facility. Each E-house is customized to suit different applications and environmental conditions.
Each module is tested at our facility where AKA conducts partial load tests. AKA has a proven track record of factory testing requiring minimal on-site commissioning. The finished AKA's E-houses are steel structures with corrugated siding on the exterior and steel sheet walls on the interior. Each E-house contains the specified alarm equipment, HVAC, switchgear, lighting, cabling and all other necessary equipment.
Contact us to learn more about our solution for your project
Call Us: +1(902) 620-4882
24/7 (Int'l): +1(519)-750-7103
24/7 (Canada): +1(866)-844-7686